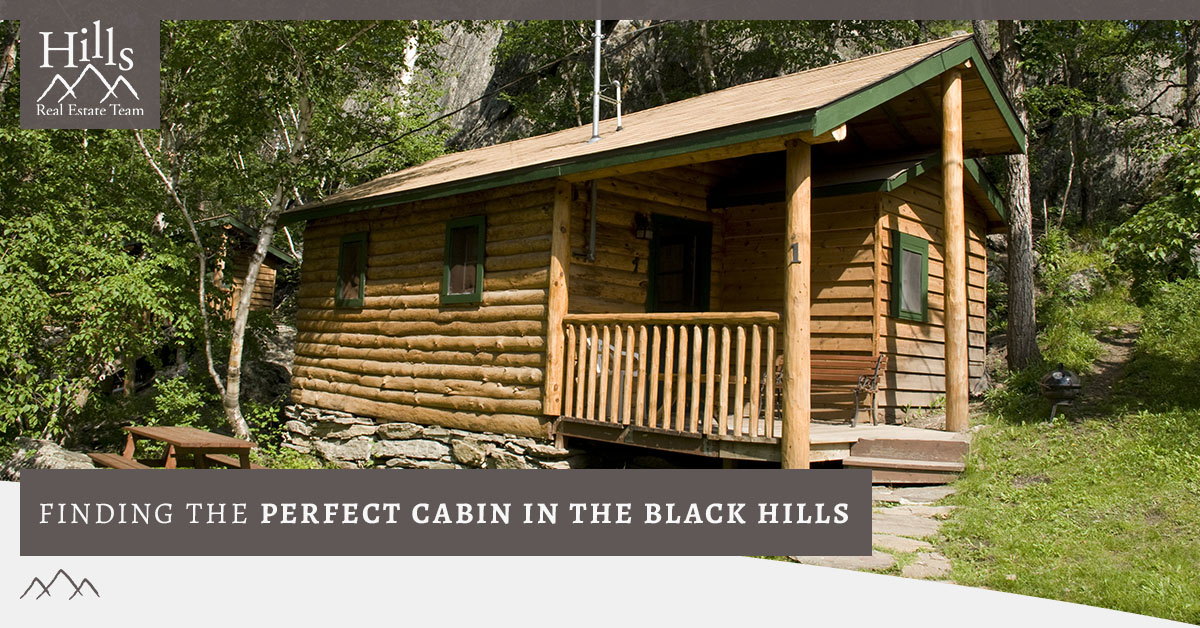 The Black Hills are renowned for their immense natural beauty, making them a natural spot for a cabin. Whether you want to buy a cabin in the Black Hills for use as a personal getaway, a seasonal rental, or as a new place to call home, you'll want to make sure you find the perfect cabin for you. The Hills Real Estate Team is here to help. We've assembled this quick guide on things to look for when you're looking for homes and cabins for sale in the Black Hills.
Which Type Of Cabin Is Right For You?

When you first start your search for a cabin in the Black Hills, you'll want to figure out what kind of cabin you're looking for specifically. We all have a vision in our heads of what a cabin looks like, so you'll want to put a name to that idea. Log cabins are the most traditional. Constructed of timbers and beams, log cabins are notable for their rustic appearance and dramatic corner styles. A-frame cabins are triangular in construction, often with lofted bedrooms or ceilings. The dramatic angle of the roof ensures that snow and leaves pour off the sides. Mobile cabins are often built on the bed of a trailer, ensuring that they can be towed behind your large vehicle.
Do A Careful Inspection

Once you've figured out which kind of cabin you're interested in, you can reach out to your local real estate agent in the Black Hills to help you start finding properties for sale. They'll likely have a variety of homes to choose from, so don't be afraid to visit several before making a decision. Once you get there, you'll want to perform a careful inspection.
Exterior Inspection

Just like inspecting a home for sale, you'll want to look at things like the condition of the foundation and the roof. But cabins come with their own unique considerations. Make sure to look at the staining of the cabin. A well-stained cabin can resist moisture and rot. But thinning stain is cause for concern and can be a major investment to have it redone. Make sure there aren't any logs touching the ground, as these logs will absorb moisture and rot quickly, compromising the stability of your new home. Take a look at the roof. You'll want to make sure that it hangs over the sides to prevent moisture from rolling down the sides of the walls or from pooling at the foundation. Also, ensure that the cabin has gutters. While gutters might detract from the quaint charm of a cabin, they're vital for the long-term effectiveness of your stain. Finally, inspect the chinking between the logs. The chinking is the seal between each beam, and you don't want to find missing pieces, chunks, gaps, or chinking that has been applied poorly.
Interior Inspection

Once you've looked over the exterior, make your way inside, and do the same inspection, but in reverse. Look for gaps between logs on the inside of the home, and check for any drafts or light that could be coming through. Make sure that the joints at the corners of the walls meet cleanly. Also, check for the join between the walls and the roof. Look at the roof's rafters, purlins, and the ridge beam. Like outside, you're checking for the condition of the stain or for signs of rot.
The Cabin's Location

While really anywhere in the Black Hills will be visually striking, think about what kind of natural features you'd like to be near. Water features like rivers, lakes, and streams will likely command a higher price. More forested areas are beautiful, but might be difficult to get to. Areas with hills or higher in elevation might have more dramatic changes in weather throughout the year. Consider what you want to see every day and structure your search accordingly.

Work With A Cabin Specialist

Once you've narrowed your search down to one or two options, don't be afraid to reach out to a log cabin specialist. They'll be able to give you an exhaustive inspection report on the state of the property. You could use this information during your negotiations with the seller on price.
Ready to start looking for homes for sale in the Black Hills? Reach out to the Hills Real Estate Team! With real estate agents in Rapid City, Sioux Falls, and Spearfish, we can help you find the perfect cabin for sale in the Black Hills. Contact us today!